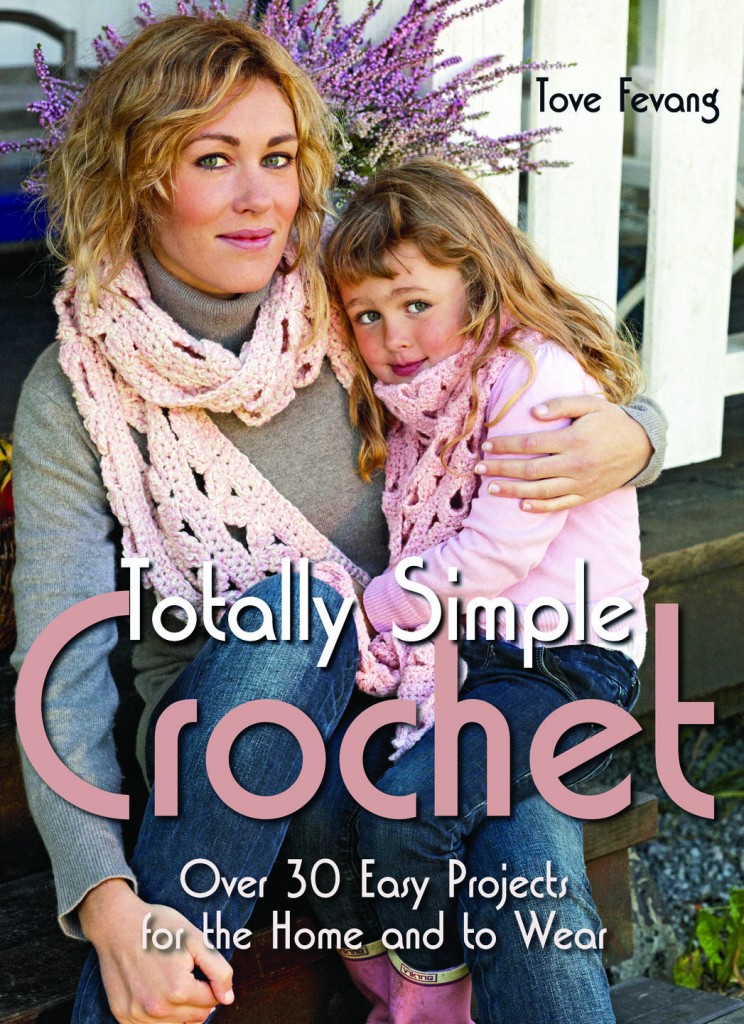 Totally Simple Crochet, engelsk utgave av "Helt enkel hekling"
Boken er nå kommet ut i USA! For noen dager siden kom boken ut på engelsk. På coveret har de valgt bilde av verdens søteste lille pike med moren sin.
Og her baksiden, med flere av modellene i boken.
Dette er litt hva forlaget i USA skriver om boken:
Crochet is one of the easiest handcraft techniques to learn. All you need to get started is a crochet hook and a ball of yarn. Some people think of crochet as old-fashioned, but it needn't be your grandmother's craft. One of the most exciting aspects of crochet is the simplicity of combining stitch patterns. If you haven't crocheted before, Totally Simple Crochet begins with a general information section that shows how the crochet stitches are formed and the structures they make. Once you gain control of your hook and the basics, you will be combining stitches and varying colors making pieces of your own in no time. You'll discover projects with wonderful wool, alpaca, cotton, linen, and silk yarns in every thickness and color throughout the book. With over 30 appealing projects to choose from you won't know where to start.
Boken er utgitt på forlaget http://www.trafalgarbooks.com/TOSICR.html
Jeg måtte jo google litt og se om boken allerede var på internet og da fant jeg denne bokanmeldelsen, som var veldig hyggelig lesning for meg!
http://crochetcafe.blogspot.com/2011/06/totally-simple-crochet-review-and.html
Totally Simple Crochet Review and Giveaway!
Today on Cute Crochet Chat, I am pleased to present a recently published crochet book, "Totally Simple Crochet", Over 30 Easy Projects for the Home and to Wear, published by Trafalgar Books.
Most of us who crochet would agree with the book's author Tove Fevang, "When evening comes and I'm rather tired after a long workday, getting out the crochet hook and some yarn re-energizes me. Everything else melts away as I relax with my crocheting".
Aren't we all lucky to have something like crochet to feel so passionate about?
If you are new to the art of crochet or if you have been crocheting for years, you will find a project in this book that you want to make. From dishcloths to baby hats to scarves and afghans, there is something for everyone! Each project is well photographed and some of the beginner designs have step-by-step photographs that will help you breeze through the instructions. The crochet designs in this book are just what they say, "Totally Simple", but that does not mean beginner-only. Fevang uses a wide variety of interesting crochet stitches to create some very pretty designs that will be popular with every skill level. Even some of the beginning projects have interesting crochet textures!
The book begins with Abbreviations and General Crochet information. Each stitch used is outlined with a nice description and the photographs are very clear. The Materials section lists several tips and techniques by the author written in plain language to help you as you begin to crochet.
For the beginner, there are also several pretty colored dishcloths that will take you through learning all the basic stitches in crochet, each color a different stitch and edging! I love this idea for the novice crocheter, who will have something useful when practice time is over!